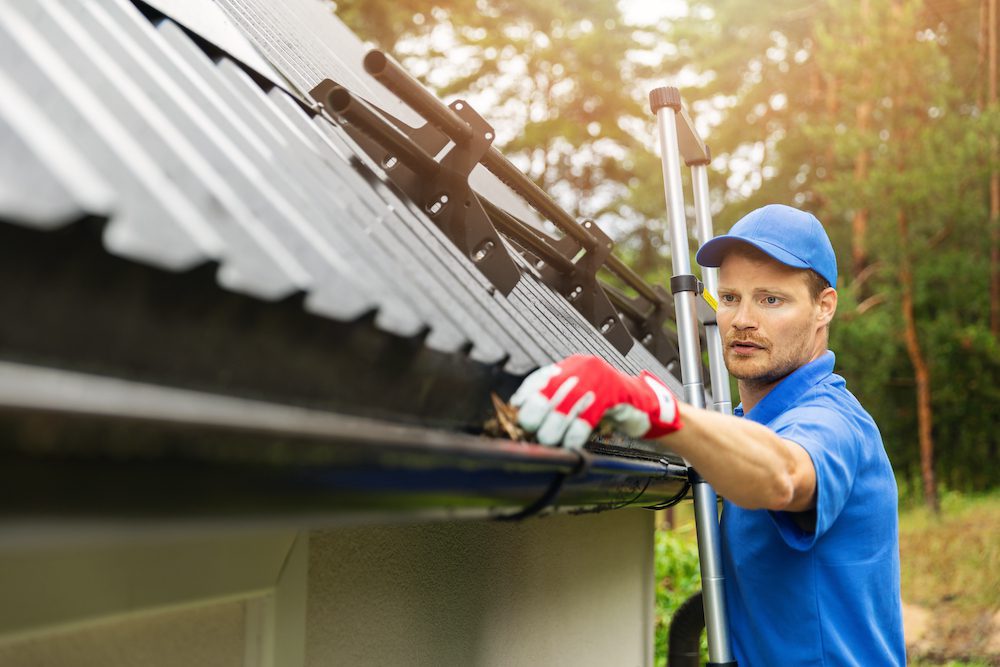 Picture this: You're outside working in the yard on a crisp fall day while leaves are falling all around you. You're walking around your house and notice that against your home's foundation, there's a lot of water. You step closer to see why it's flooded and notice that your gutters are leaking water over the edges, and it's trickling down to the ground near your home's foundation. You wouldn't just leave the standing water- you'd need to get the root of the problem and fix it before it damages your home.
Leaking and overflowing gutters are common during autumn when leaves rapidly fall and accumulate inside a gutter system. Leaks and overflowing gutters are often caused by a clog inside of a half-round gutter system. It's important to stay on top of cleaning your gutters to avoid clogs and damage to your home. Keep reading to learn why your gutters need a September service and about an excellent gutter cleaning service option.
Wet Leaves are Heavy
One of the biggest reasons your gutters need a September gutter cleaning service is that autumn brings a lot of rain and wind, which carries leaves and deposits them inside a half-round gutter system. A gutter system that hasn't been cleaned after the spring and summer months already has some leaves, pine needles, and possibly insects dwelling inside it, so adding leaves increases the amount of debris inside the gutter. 
With all that debris inside the gutter, it's already adding to the weight of the gutter system. Mix that with all the fallen leaves of fall and precipitation, and you've got a heavy mess inside the gutters that's putting excess weight on the gutter system. Lynchburg gets around 42 inches of rain annually, slightly higher than the country's average of 38 inches. Extra precipitation adds weight to the gutters, putting a strain on the gutter system's hangers.
Per cubic yard, dry leaves weigh 150 lbs, whereas wet leaves weigh 550 lbs. That's a massive difference, so imagine how much heavier wet leaves will be inside your gutter system if left to sit there. Cleaning your gutters now will free up space inside your half-round gutter system so they're clean before the start of fall.
Your Gutters Could Overflow
If your gutters haven't been cleaned in a while, they probably have some debris. Even if they were cleaned at the start of spring or within the past calendar year, they'll have some sort of debris inside the half-round gutter. With all the leaves and pine needles about to fall, it'll only add to the debris that lands in and collects inside.
All of this debris leads to clogs, an accumulation of leaves, pine needles, and silt that impede water flow. Since water can't get around heavy leaves and debris, it's forced to spill over the sides of the gutter. This excess water will have no choice but to collect around your home's foundation.
You Could Have Foundation Damage
As just mentioned, excess water that overflows from a clogged gutter has no choice but to land near your home's foundation. Imagine that every time it rains this fall, whatever water is collected from the roof will drain around your home's foundation. Eventually, the water will create a trench around the foundation, which can cause the water to seep through the foundation walls, leading to basement leaks, foundation damage, cracks in the foundation, and even structural damage. All this damage is costly to repair, so it's a good idea to schedule a September service to prevent clogged and overflowing gutters.
Clogs Will Get Worse Without a September Service
If you don't clean your gutters often, you may be unaware of an existing clog inside the gutter. Falling leaves and autumn precipitation will only worsen clogs, making them larger and forcing them to block even more water flow. Eventually, all water flow will be blocked, forcing all water from the gutters to overflow, creating an even larger trench around your home's foundation. This leads to foundation damage and will ruin your landscaping if left alone all season.
How Can I Have My Gutters Serviced?
You could attempt to clean your gutters yourself if you don't want to hire a professional gutter cleaning service. DIY gutter cleaning is a chore that should be handled with extreme caution since the use of a ladder is required. If attempting to clean your gutters yourself, you'll need to scale the ladder and collect debris inside a bucket around the perimeter of your home. It's a task that can take many hours, even days.
Hiring a professional gutter cleaning service like K-Guard/One Stop Home Improvement Shop will save you hours of cleaning, allowing you to spend your time elsewhere. It's also safer to hire a gutter cleaning service since they're trained on safety and how to properly remove debris to ensure your gutters are sparkling clean to allow for the most rapid water flow this upcoming season. Keeping your gutters clean is crucial to ensuring your gutter system is working optimally.
If you're interested in scheduling a September service, contact K-Guard/One Stop Home Improvement Shop today! We can provide you with a free estimate detailing the cost of cleaning your gutters. We also offer a gutter repair service, so if we notice any issues with your gutter system we can give you a quote to fix it. Our gutter cleaning service is professional, detailed, and timely, ensuring your gutters will be in tip-top shape for fall!
K-Guard/One Stop Home Improvement Shop can help with all your home improvement needs, whether you need help with an insurance claim or a quote for installing a new roof or gutter system. We're here to help every step of the way throughout the entire process. Contact us today for a free consultation!