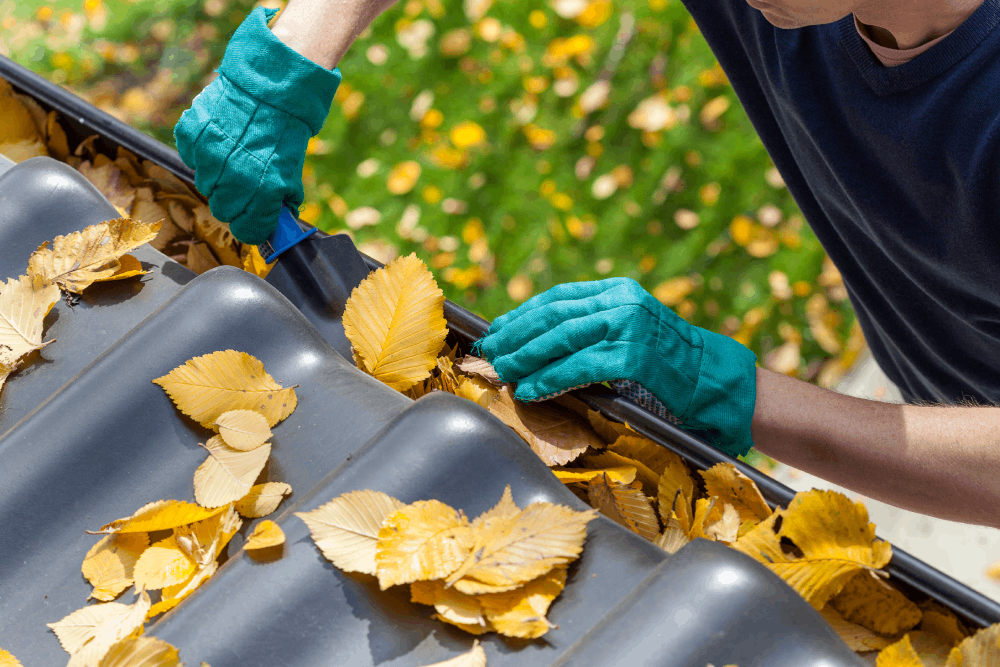 Fall means fluctuating temperatures with summer-like highs lingering and the arrival of chilly overnight temperatures. The weather changes often here in Lynchburg as we change seasons, with severe thunderstorms and hail storms still a possibility in the fall. These fluctuating weather patterns can do a number on your home.
Strong wind gusts that carry debris, hail, and pelting rain can lead to gutter damage and can make gutter clogs even more severe. If half-round or open-top gutters don't have guards installed and have a lot of debris, the likelihood of damage from a fall storm is high. We can't stress enough the importance of cleaning gutters, especially with winter weather around the corner.
If you've never cleaned your gutters before or if you simply need a refresher, you've come to the right place. We're going to share some gutter cleaning tricks and tips to help your gutters stay as free from debris as possible.
Why Do I Need to Clean My Gutters?
Before we share some gutter cleaning tricks and tips, let's first discuss why you need to clean your gutters. If your home has half-round gutters or open-top gutters installed and they don't have gutter guards, then you need to clean them often so they can function as optimally as possible. But why is it so important to clean your gutters?
Open-top gutters that don't have gutter guards installed are completely exposed to the elements, including the exterior and the interior of the gutter system. Debris like leaves, twigs, silt, and even insects, will find their way into your gutters and will collect and build up over time. Eventually, this debris will create a clog that will block water flow, forcing it to spill over the gutters and creating drainage issues and damage to your home like foundation damage, damage to the soffit and fascia boards, landscaping damage, and so on. 
How Often Should I Clean My Gutters?
Gutter systems that don't have gutter guards installed should be cleaned at least two times per year, according to the National Center for Healthy Housing. Gutters should be cleaned more often if your home is surrounded by trees, especially pines that shed pine needles multiple times per year and deciduous trees that shed leaves in fall and winter. 
Lynchburg, Charlottesville, Danville, and other neighboring cities are rich with a variety of trees like maples, oaks, and pines, so it's important to clean your gutters often to prevent clogs.
Life can be hectic-  sometimes we can't remember when the last time we cleaned our gutters was or if we even cleaned them this year. Generally speaking, clean your gutters in the spring and fall. This schedule will ensure fallen leaves, twigs, and other debris can be removed during the two seasons each year when leaves are falling and after a long winter.
Gutter Cleaning Tricks & Tips
So how do you clean your gutters to remove debris and prevent clogs? Luckily, cleaning gutters is relatively easy – you just have to be very cautious since a ladder is required. You'll need to reposition and climb up and down the ladder often, so make sure you're comfortable with that. If not, ask a family member or friend to help or hire a professional gutter cleaning service like One Stop Home Improvement Shop to safely and professionally clean your gutters.
If you do choose to clean your gutters yourself, follow the tips and tricks below:
Step #1
You'll first need to gather some materials to clean your gutters. Make sure to have the following on hand: a tall ladder that can reach the gutters, gloves, scoop, bucket, and garden hose.
Step #2
Once you have all materials needed, you're ready to start the easy yet time-consuming task of removing all debris from your gutters. There will be leaves, pine needles, silt, other debris, and even insects. Using your gloves, scoop, and bucket, remove as much debris as you can by hand.
Step #3
The final step is to flush out any remaining debris that you couldn't get by hand. Use a garden hose to flush out the gutter and downspout to remove stubborn dirt, leaves, roof sediment, etc. 
Additional Gutter Cleaning Tricks
Take your gutter cleaning to the next level and try this trick: look at your downspouts. If they seem clogged (water trickling slowly out of downspouts, overflowing gutters, or leaks) then you can take a plumber's snake and insert it into the corners of the downspouts. You'll be able to remove debris like leaves and twigs that can get stuck in the downspout.
Another great trick is to use a leaf blower to remove tough leaves that are hard to remove by hand. Just be cautious and wear safety goggles or other eye protection so you don't get debris in your eyes. It's also best if someone remains on the ground and hands you the leaf blower while you are on the ladder.
Cleaning gutters is easy. Most homeowners can do it themselves, however, it is time-consuming and dangerous. According to the International Association of Certified Home Inspectors, there are roughly 164,000 injuries per year that are caused by falls from ladders. Hiring a gutter cleaning service can keep you safe while ensuring your gutters will be free and clear from debris.
If you're tired of cleaning your gutters or the thought of cleaning them two times per year sounds daunting, consider installing gutter guards or nylon or mesh screens on your existing gutter system to keep them cleaner. We can install our Xtreme mesh gutter guard system which is made from surgical-grade stainless steel mesh that will block even tiny debris, such as pine needles, from entering your gutters, while still allowing rainwater to filter through and be effectively diverted away from your home. 
K Guard / One Stop Home Improvement Shop is also an authorized installer for the K-Guard Leaf Free Gutter System. K-Guard Gutter Guards have a hood that allows debris to simply slide off rather than enter the gutter system, eliminating the need for you to clean your gutters, a great option for homeowners who don't want to deal with routine gutter cleaning. We're located in Lynchburg, Virginia, and we cover the surrounding areas. Contact us today for a free estimate.