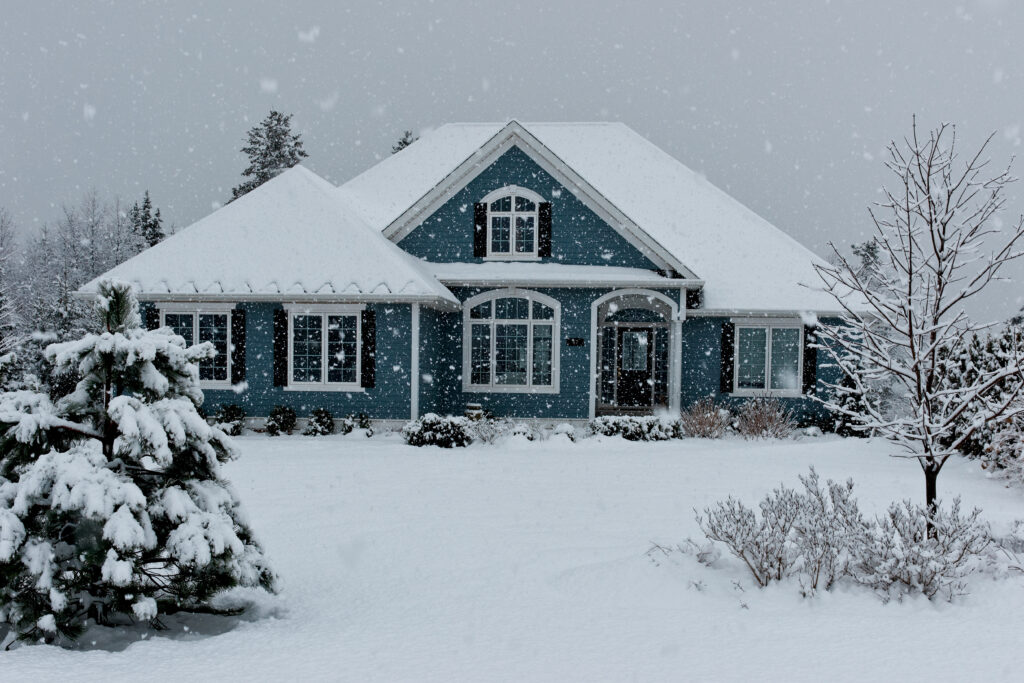 'Tis the holiday season, so the weather has shifted from slightly warm fall temperatures to a wintry feel with chilly highs and lows. Central Virginia's snowiest months are usually January and February, which are just around the corner. While we don't get nearly as much snow as our northern counterparts, we get a few snowfalls each winter, some of which bring heavy snowfall.
Wet, heavy snow can be a nuisance: it's challenging to maneuver, whether by shoveling or removing from our cars. It can also cause significant damage to the exterior of our homes. Hefty snow that's left to accumulate on our gutters can be dangerous – continue reading to learn about the dangers of snow accumulation and gutter damage.
The Dangers of Heavy Snow on Gutters
A gutter system's role is to carry rain and meltwater that falls or melts from the roof and direct it away from a home's foundation. Snowfall will often settle on a roof and inside a half-round gutter system. Snow can be extremely heavy. That wet snow we mentioned earlier can weigh around 20 pounds per cubic foot! Imagine if we had a snowstorm that dumped 8-10 inches of wet, heavy snow; that snow would cover your roof and gutters, putting extreme pressure on them.
While gutter systems are meant to be exposed to the elements, not all can withstand heavy snow. If a gutter system is older or there is existing damage, it's at a high risk of extreme damage from the next snowstorm we get here in Lynchburg and surrounding areas. For one, your gutter system could be at risk of sagging or tearing away from the home, depending on the type of gutter system you have. Heavy snow will only exacerbate existing gutter damage.
Next, traditional gutter systems are at risk of leaking due to heavy snow. When it starts to melt, meltwater will make its way into the gutters and, eventually, the downspouts. If the gutter system has a clog due to debris or layers of snow and ice, that meltwater will have no choice but to pour over the side of the gutters or collect inside the gutter, pushing standing water near the roof. Water that's left to accumulate near the roofline can cause roof damage and can seep inside of the soffit and fascia boards, causing damage and leaks.
Finally, heavy snow can increase the risk of your gutter system forming ice dams. Because our evening lows hover around freezing and daytime highs are often in the 40s during the winter months, ice dams are very common here in Lynchburg. Accumulated heavy snow will freeze, melt, and refreeze, causing ice dams to form. Ice dams are hazardous and can harm your home and injure your loved ones.
How Can I Prevent Heavy Snow on Gutters?
Knowing the dangers heavy snow can cause to your gutters, you're probably wondering if there's anything you can do to prevent damage. One of the best things you can do to keep your gutter system safe is to clean it before our first snowfall. Gutter cleaning is essential for the longevity and overall performance of the gutter system, but removing fall leaves and debris before snowfall can help meltwater flow through the system freely.
Clogged gutters will not only impede water flow but will add additional weight to the gutter system in the event of heavy snow. Clogged gutters can become heavy from wet leaves and other debris like twigs and nests left behind by pests. Add in heavy snow, and your gutters will be weighed down, resulting in possible overflowing and sagging gutters or gutters that cause leaks or tear away from the home.
Next, consider having your home checked for insulation issues. Excessive heat loss from the roofline can cause icicles to form, aiding in the formation of ice dams from heavy snow and putting even more pressure on already heavy gutters.
If you're uncomfortable cleaning your gutters, you could hire a professional gutter cleaning service like One Stop Home Improvement Shop. We offer gutter cleaning and repair services to homeowners in Central Virginia. Our expertly trained staff will give them a deep clean, ensuring all debris is cleared. We can also install our Xtreme mesh gutter guard system or the K-Guard Leaf Free Gutter System that will keep your gutters clean and eliminate the need for anyone to clean them ever again! K-Guard is a complete system with a curved hood – snow won't be able to enter the system or accumulate on it. Therefore, your gutters won't be weighed down by heavy snow, ultimately protecting your gutter system and home from heavy snow.
Want to install our Xtreme mesh gutter guard system or K-Guard? Contact us for a free estimate. One Stop Home Improvement Shop delivers a 5-star experience and has decades of experience and many happy lifelong customers. We're located in Lynchburg, Virginia, and cover the surrounding areas.