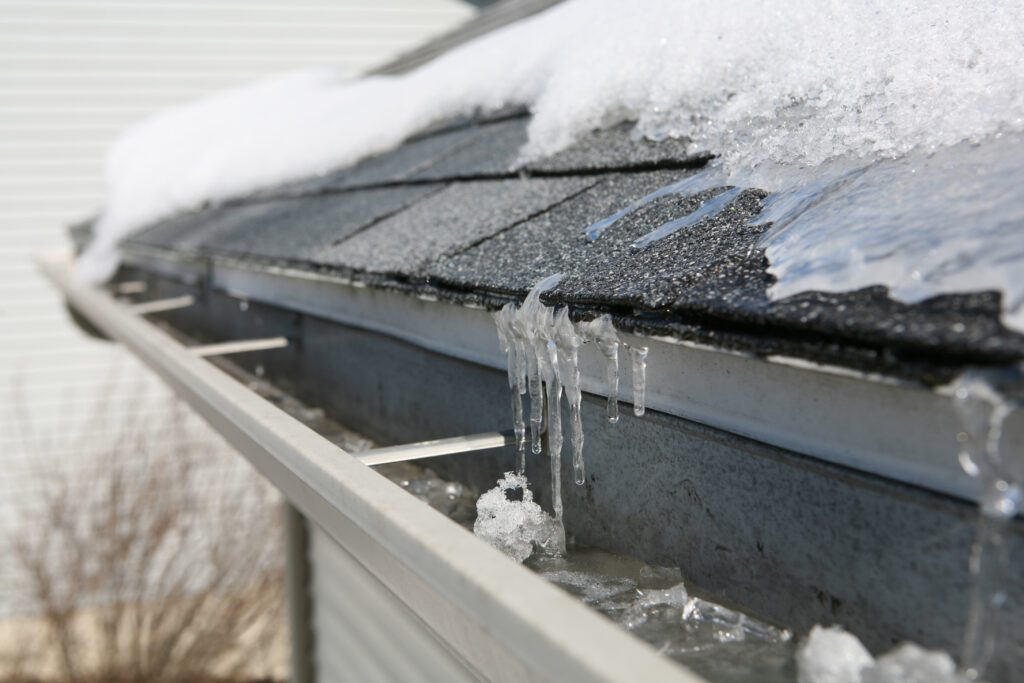 Do you know off the top of your head how much snow we get annually here in Lynchburg and surrounding cities? Twelve. Though less than the national average, it still amounts to something and makes for an active winter. While our winters are mild compared to other parts of the country, it's not uncommon for daytime highs to flirt around freezing while nighttime lows dip to the single digits.
Winter is fast approaching at just a mere two months away. Now is the time to prepare your home for Old Man Winter's arrival. There's plenty to do, from disconnecting the outdoor hoses to moving the grill in the garage or shed and everything in between. There is one part of our homes that is often ignored during winterizing – the gutters.
Gutters are one of the hardest working and most crucial components of a home, working to protect it from drainage issues. Failing to clean them and address issues before winter will lead to costly damage that will go unnoticed until springtime. Keep reading for tips for addressing gutter issues before winter to better protect your home from damage.
Clean Them
One of the best things you can do for your gutters before winter arrives is to clean them. We can't stress enough the importance of cleaning gutters. At K-Guard / One Stop Home Improvement Shop, we've dismantled thousands of gutter systems and have seen the toll dirty gutters can take on the entire gutter system and the danger they can cause to the home.
Gutter cleaning is essential to protect your home from drainage issues. A gutter system can't drain water from the roof if the gutters are full of debris like leaves, twigs, pine needles, and pests inside the system. Stormwater and rainwater have to go somewhere, so the water that should be inside the gutters and downspouts is forced to spill over the sides, potentially causing costly damage like sagging gutters, overflowing gutters, damaged soffit and fascia boards, basement leaks, foundation damage, and even landscaping damage. Therefore, clean your gutters or hire a professional gutter cleaning service to keep your home safe.
Check for Sagging
Have you ever seen gutters sagging on a home gutter system before? If you have, you know how unsightly it is to see the gutters pulling away from the home and the big dips in the system it can cause. Sags can appear minor, but the truth is that sagging gutters are dangerous regardless of how bad they appear.
Gutters sag because they're too heavy from debris trapped inside that's formed clogs, or they were damaged in severe weather and have been made worse every rainfall with the excess pressure of water and debris, forcing the gutter to sag. It's paramount to address sagging gutters at any time, but especially before wintertime.
Winter in Lynchburg brings chilly temperatures that can freeze trapped water inside a sagging gutter, making it sag even more. Snow is heavy; it can weigh around 20 lbs per cubic foot. Even the slightest of snowfall totals can add excess pressure to your gutter system, weighing down existing sagging gutters and exacerbating the damage. Ice dams are a common winter occurrence here in Lynchburg, putting immense pressure on a home's gutter system and causing damage.
Check for Loose Bolts & Screws
Traditional gutter systems that aren't seamless have hundreds of bolts and screws that often become loose from wear and tear. Gutters with seams are installed in sections by fastening sections together with bolts, washers, nails, screws, and other tools. The seams can get loose from the elements, especially after severe weather, like a thunderstorm that produces hail or a torrential downpour that brings several inches of rain.
Checking for loose bolts and screws before winter arrives can help avoid damage to your gutter system and home. The last thing you want to deal with this winter is a damaged gutter system or ice dams caused by loose bolts or screws.
Look for Signs of Wear & Tear
Our gutter systems go through a lot in a given year: heavy rainstorms, strong wind gusts, hail from summer thunderstorms, and sleet and snow. All these weather conditions can be taxing, causing damage that may go unnoticed. While examining your gutter system to get it ready for winter, look for signs of wear and tear.
Things to look out for are chipped paint, dents, or cracks. Though these signs of wear and tear may seem just cosmetic, they're warning signs. When paint chips, it exposes the gutter material, and if it's not sealed, it could corrode and rust, eventually eating away at the material.
Old Man Winter is just a couple of months away – don't let him catch you off guard by neglecting your gutter system. Addressing gutter issues before winter can save you time and money down the road, protecting your home from drainage issues.
If you're tired of prepping your gutters each winter, consider installing a gutter system from K-Guard / One Stop Home Improvement Shop! Our seamless half-round gutters help to reduce clogs, especially when paired with our Xtreme Mesh Gutter Guard System. It keeps all debris out and can be placed directly on our seamless gutters or your existing gutter system.
If you want to eliminate clogs for good, install our K-Guard System. The K-Guard Leaf Free Gutter System is a complete system with a curved hood that blocks all debris from entering the gutters. Only water can enter the gutter through a rear drainage channel, allowing debris to simply slide off. You'll never need to clean your gutters or prep them for winter ever again!
K-Guard / One Stop Home Improvement Shop can help with all your home improvement needs, whether you need help with an insurance claim or a quote for installing a new roof or gutter system. We're here to help every step of the way throughout the entire process. Contact us today for a free consultation!