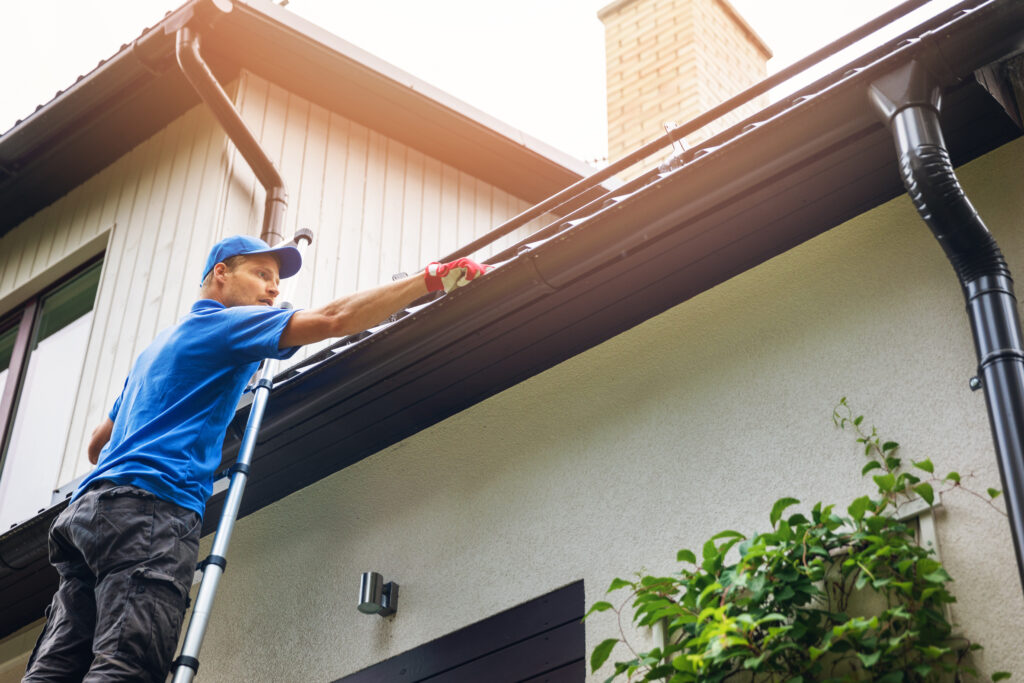 Half-round gutter systems need to be cleaned regularly. Because the inside of the gutter is completely exposed, they easily collect debris like leaves, twigs, silt, and pine needles. Even some gutter systems with screens or filters will need to be cleaned depending on the quality of the installed gutter system.
Have you ever cleaned your gutter system? If you have, then you understand how time-consuming the process can be. Gutter cleaning requires using a ladder and climbing up and down many times while carrying a bucket full of debris. It can be a dangerous chore if you're uncomfortable using a ladder. 
If you're uncomfortable cleaning your gutters or never have cleaned them, keep reading to learn about 7 essential reasons to hire a professional gutter cleaning service.
1. You'll Be Safer
As just mentioned, the use of a ladder is required when cleaning a gutter system. Gutters are placed at the roofline around the perimeter of our homes, sometimes around gable dormers and complex roofs. Scaling the roof is dangerous, even more so when cleaning the gutters. When you clean the gutters, you'll need to climb up and down the ladder to reposition it every few feet while carrying a bucket full of debris. The bucket can get very heavy from wet leaves, twigs, silt, and even nests.
Hiring a professional gutter cleaning service will keep you safer. They're trained and have the experience needed to be safe on the job. Having a professional climb a ladder and carry a heavy bucket and tools is much safer than risking your safety, especially if you're uncomfortable with a ladder or heights.
2. Protects Your Home From Damage
Hiring a professional gutter cleaning service can protect your home from damage caused by clogged gutters. Professional gutter cleaning services have the expertise and tools needed to remove clogs so your gutter doesn't trap and collect debris, worsening an existing clog. Homeowners can do a great job removing debris, but unlike the professionals, they don't have the tools and training required to remove all debris to make water flow smoother. Homeowners may unknowingly leave some debris behind, which can lead to clogs and damage to the home.
3. It Will Save You Time
We're not kidding when we say that cleaning the gutters can take a homeowner all day and more, depending on the size of the home. Because you'll be climbing up and down a ladder, repositioning it around the perimeter of your home, and extending the ladder depending on how high your gutters are, it's very time-consuming. Hiring a professional gutter cleaning service can save you hours and even days of hassle, giving you more time to do the things you enjoy.
4. It Can Extend The Life of Your Gutter System
Traditional half-round gutters or open-top gutter systems have an average lifespan of around 20 years, give or take, depending on a few factors like the climate in which you live, how well the system is maintained, and if severe weather takes its toll on the gutter system. Living in Central Virginia means we have all four seasons that bring heavy rains, snowfall, and thunderstorms, all of which can wreak havoc on a traditional gutter system. We also have deciduous trees that shed their leaves each fall, making their way into our gutters and forming clogs.
Hiring a professional gutter cleaning service can extend the life of your gutter system. When clogs form, it can create a domino effect: clogs lead to overflowing and sagging gutters, interior leaks, roof damage, and even structural damage like foundation damage. Professional gutter cleaners will ensure your gutters are cleaned multiple times per year, ensuring your system is in tip-top shape.
5. Use of Proper Equipment
When homeowners clean their gutter systems, they typically use a ladder and a bucket to remove debris. When you hire a professional gutter cleaning service, they have the proper equipment to get a deep clean. From ladder extenders and stabilizers to leaf blowers, the professionals have an arsenal of equipment that can be expensive for homeowners to purchase and a nuisance to store.
6. They Can Spot Damage
Professional gutter cleaning services often have years of experience cleaning all types of gutter systems and have an excellent understanding of each component of every kind of gutter system. They can easily spot damage in any gutter system, loose bolts or joints, or cracks and leaks, bringing attention to something you might miss if you clean your gutters yourself.
7. Your System Will Work Better
Cleaner gutters mean a better working gutter system. When clogs and debris are removed from the gutters and downspouts by professionals, your gutters allow more water to flow freely throughout the gutter system, ensuring that it's working better than before. Keeping up with heavy amounts of precipitation and helping to avoid ice dams is crucial when you live in Lynchburg, Charlottesville, Danville, and other cities in Central Virginia.
One Stop Home Improvement Shop offers gutter cleaning and repair services to homeowners in Central Virginia. Our expertly trained staff will give them a deep clean, ensuring all debris is removed. We can also install our Xtreme mesh gutter guard system or the K-Guard Leaf Free Gutter System that will keep your gutters clean and eliminate the need for anyone to clean them ever again!
Want to install our Xtreme mesh gutter guard system or K-Guard? Contact us for a free estimate. One Stop Home Improvement Shop delivers a 5-star experience and has decades of experience and many happy lifelong customers. We're located in Lynchburg, Virginia and we cover the surrounding areas.