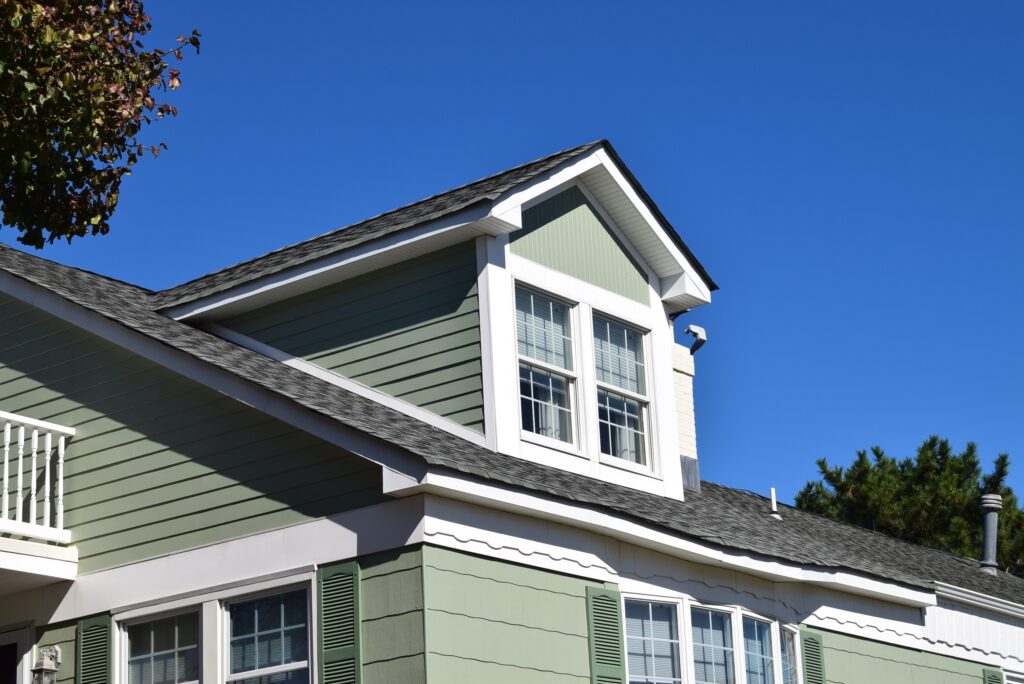 Potential homebuyers are most often first drawn to a home's exterior. When browsing realtor websites, they'll most likely click on homes that are appealing to the eye versus homes that need some work. When going to a showing after they narrow their search, potential homebuyers will take a closer look at a home's roof; they'll note the appearance and search for algae streaks, missing shingles, and other possible damage. They'll also take into account the roof type and design.
There are many different roof types and designs, however, gable roofs with dormers are the most common in America. Whether you have a gable roof with a dormer (or multiple) or if you're searching for a new home and aren't sure if dormers are right for you, continue reading. We'll discuss more in-depth what dormers are and their benefits.
What is a Dormer?
A gable roof has two sides that slope and meet in the middle at a ridge and form a triangle that extends from the home's roof, known as a dormer. There are different types of dormers in addition to gable dormers: shed, hipped, eyebrow, and segmental. Though all styles can be a beautiful addition to any home, gable dormers are the most common.
Not only are dormers a beautiful addition to any home, but they also have several benefits.
Benefits of Dormers
Dormers Attract Homebuyers
As previously mentioned, homebuyers are attracted to visually appealing homes when they begin their home search. Among other things like the number of bedrooms, flooring, and square footage, the state of the roof and the design are the first things to attract homebuyers. Dormers can offer extra living space, becoming even more aesthetically pleasing. The windows used in dormers are also beautiful and timeless, another thing that can attract homebuyers.
Dormers Offer More Ventilation
Just between a roof and the inside of a home is an attic that often houses an HVAC system and insulation. Attics are notorious for being muggy and moist, often with sweltering temperatures in the summer. Though we don't access our attics often, they are an important part of our homes, especially when it comes to affecting the environment in our homes. Attics with improper ventilation can create a warmer, moist environment in your home in the summer months. When temperatures are sweltering, the HVAC system needs to work in overdrive to keep itself cooler, thus, increasing your energy bills. Poor ventilation can also cause damage to the roof, shortening its lifespan.
Dormers improve ventilation by allowing cool air from the outside to flow into the attic, reducing the moisture and humidity in the attic. When an attic has constant airflow, then the environment in your home will be more comfortable and your roof will last longer. Things stored in your attic will also be better preserved without moist, warm air.
Dormers Drain More Water
Roofs need to be able to drain water into the gutter system and away from the home to keep it dry and free of moisture. Excess moisture on a roof can cause roof algae, pressure on the roof, leaks, and even damage to the gutter system, depending on the type of gutter system. Dormers have ridges that form a triangle that extends from the home's roof, thus, draining more water than other roof styles. A roof with a higher slope due to a dormer will help prevent water, snow, and ice dams from accumulating, ultimately leading to a drier roof.  
Dormers Pair Well With Most Gutter Systems
Another advantage of dormers is that they pair well with most gutter systems. Nearly all gutter systems will work to drain excess water from a roof that has dormers, so you're in luck if you're in the market for a new gutter system and have a gable roof with dormers! There are, however, unique roof and dormer designs that would be impossible to gutter. For a definite answer, contact us for free advice and/or estimates.
Whether you're considering installing open-top gutters or half-round gutters, durable seamless gutters, an Xtreme mesh gutter guard system, or K-Guard Leaf Free Gutter Guards, the installation process should be relatively smooth. As long as you hire a gutter installation company K Guard / One Stop Home Improvement Shop that is experienced with installing gutters on dormers and the complicated design of a gable roof, you'll be fine.
Our gutter systems are customizable to your home, making any of them the perfect option for gable dormers. We'll ensure that your gutters will match your home and the complicated design of your gable roof perfectly, complementing the beauty of your roof and your home's design.
Whether you have gable dormers on your home or you're a homebuyer searching for the perfect home, gable dormers offer many benefits. From catching homebuyers' eyes, aiding in ventilation, draining more water and snow, and pairing well with most gutter systems, there are many reasons to choose a home with gable dormers.
If you're in the market for a new gutter system, contact us for a free estimate. Our gutter options are top-of-the-line and unlike other gutter systems, offer extreme protection. In addition to our seamless gutters, our Xtreme mesh gutter guard system is a surgical-grade stainless steel mesh that will block even tiny debris, such as pine needles and leaves, from entering your gutters while still allowing rainwater to filter through and be diverted away from your home. We can also install the K-Guard System which has a curved hood and keeps all debris out and requires zero maintenance.
K Guard / One Stop Home Improvement Shop is an authorized installer for the K-Guard Leaf Gutter Guards. We're located in Lynchburg, Virginia and we cover the surrounding areas. Contact us today for a free estimate.