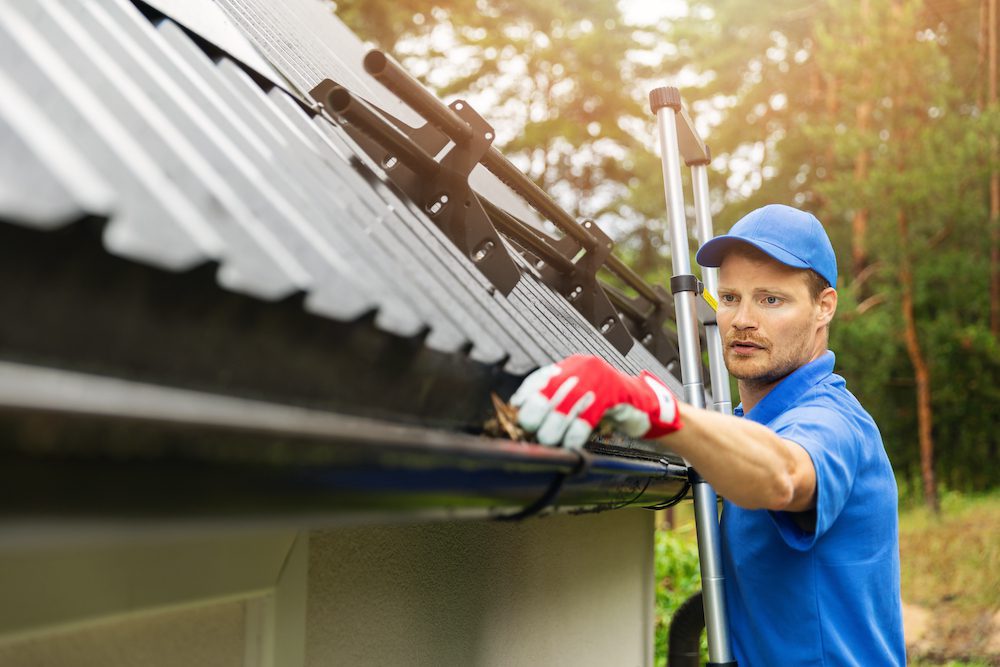 Nearly every home component has a lifecycle; there is a time when everything that was once new needs replacing. Whether the roof needs replacing, the siding needs replacing, or the HVAC system needs replacing, everything eventually needs repairing or replacing. What's another component that will most likely need repairs or a replacement at some point in its lifecycle? The gutter system.
Traditional half-round gutters have a lifespan of roughly 20 years, give or take, and it's filled with routine maintenance to ensure they work properly. But what happens when you encounter a problem like leaky gutters or sagging downspouts? Continue reading to learn when to repair and when to replace your gutter system.
When to Repair Your Gutters
Repairing gutters often saves homeowners money when they don't want to invest in a new gutter system. While major gutter issues indicate the gutter system should be replaced, there are instances when repairing the gutters is a great choice. But how do you know what constitutes a repair versus a gutter replacement?
Minor Damage
Did your gutter system get some minor damage from a recent storm? Does it have minor dents or a few loose bolts or screws? Most minor damage can be repaired rather than an entire gutter system replacement. Not sure if the damage is minor? Hiring a professional gutter repair company in Lynchburg can help you determine if the damage is minor and whether or not they can repair it.
Loose Bolts & Screws
Half-round gutters with seams contain many parts that are connected using bolts and screws, rather than seamless gutters that have one continuous piece. These bolts and screws in gutter systems with seams can loosen from high wind gusts, heavy snow, torrential downpours, etc. A gutter repair company can tighten and replace any loose or missing bolts and screws throughout the gutter system.
Small Leaks
If you notice a small leak that's more like a trickle instead of fast-flowing water, you can probably skip replacing the entire gutter system. Small leaks can occur when a gap forms in a gutter system with seams or minor damage. Small leaks aren't always a cause for concern and can most often be repaired by a professional gutter repair company.
Small Cracks
If you notice small cracks in your gutter system, don't immediately panic. Small cracks can most often be repaired by a professional, assuming they're small enough. Cracks can form from excessive pressure on the gutter system, like heavy snow or ice dams or damage from a recent or past storm.
When to Replace Your Gutters
Not every gutter issue or noticeable damage can be repaired. But how do you know if you should ignore it, repair it, or replace it? Keep reading to learn which gutter issues warrant an entire gutter replacement.
Consider their Age
Again, most traditional gutter systems have a gutter lifecycle of around 20 years, give or take. Some gutter systems need replacing sooner if the climate is humid and has frequent severe weather. Some gutter systems last longer if the climate is dry and hasn't received much storm damage. 

If your gutter system is approaching its 20th birthday, it's a good idea to get the system replaced. It has probably suffered damage and is wearing down from natural wear and tear. A gutter replacement service will dismantle your current system and install a new one to better protect your home from drainage issues.
Excessive Clogging
A gutter system that clogs often might indicate an issue beyond collecting too many leaves or pine needles. Gutter systems clog when too much debris is inside the gutters, which has resulted in a blockage. Waterflow is impeded, often forcing it to spill over the sides of the gutters and remain along the roofline, causing damage to the roof shingles and underlayment. Excessive clogged gutters can indicate a much bigger issue that you'll want to have assessed and replaced as soon as possible to avoid costly damage.
Overflowing Gutters
A quality gutter system should never overflow. An overflowing gutter means the system can't handle large amounts of precipitation, resulting in water spilling over the sides, never flushing through the system. Gutters can also overflow when clogged or if something is blocking the water from flowing through the system, like a pest's nest or hive. If your gutters are overflowing, replace them before they cause extensive damage to your home's foundation or landscaping.
Large Cracks/Dents/Paint Chips
Cracks, dents, and paint chips may sound like cosmetic damage, but they're serious issues. Cracks, dents, and paint chips indicate the gutter system has damage, most likely from a severe storm or strong winds. Though they appear to be cosmetic, they can cause the base material of the gutter system to corrode, especially if paint chips from large cracks and dents.
K-Guard / One Stop Home Improvement Shop has been installing and repairing gutter systems for decades with tens of thousands of happy customers in Lynchburg and surrounding areas. Unsure if your gutters need replacing or repairing? Request a free estimate – we'll examine your current system and determine whether it needs repairing or replacing.
Our gutter repair is the best in Lynchburg, and our expertly trained staff know how to fix areas of gutter systems that are failing to get them performing well again. If the gutter system is beyond repair, our gutter replacement is best. We can install seamless gutters and gutter guards like our Xtreme Mesh Gutter Guard System, or the K-Guard Leaf Free Gutter System. If your gutters don't need repairing or replacing but aren't working optimally, we offer a gutter cleaning service that can get them sparkling clean!
K-Guard / One Stop Home Improvement Shop can help with all your home improvement needs, whether you need help with an insurance claim or a quote for installing a new roof or gutter system. We're here to help every step of the way throughout the entire process. Contact us today for a free consultation!