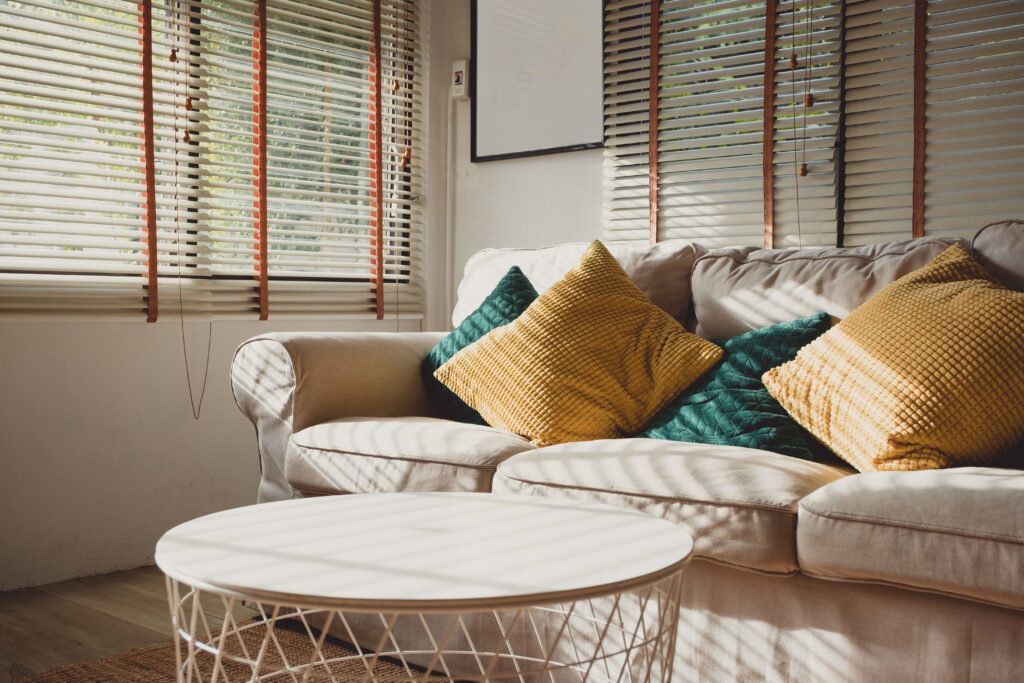 Picture this: you purchased a new couch in a rich gray color just months ago. You notice one afternoon that the color of the couch doesn't seem as rich and see that it's started to fade from exposure to the sun. Can you imagine the frustration you would feel if this happened? Your investment in furniture and other home furnishings can easily be damaged by the sun's rays without UV-protected windows.
As homeowners, we don't see the color-fading process from the sun since it's gradual. Your furnishings, artwork, and carpets won't look faded day-to-day. However, you'll notice fading after a few months to a few years. 
How does the sun cause fading in our home's interiors? And how can you protect your home interior from silent fading? Keep reading to learn more!
How Does the Sun Cause Our Interiors to Fade?
Before we explain how the sun causes our interiors to fade, let's dive deeper into what exactly the sun's UV rays are. The sun transmits ultraviolet radiation you can't feel or see since it's not the heat or light being transmitted. Rather, invisible rays. There are three different types of UV rays: UVA, UVB, and UVC.  Ultraviolet A (UVA) and B rays (UVB) are the rays that age our skin and can cause skin cancers, while ultraviolet C rays (UVC) aren't transmitted to Earth since our atmosphere blocks them.
So, UVA and UVB rays are responsible for fading the interior fabrics inside our homes. If the blinds and curtains are open while the sun is shining in your home, whatever fabric the sunlight touches is in danger of fading. Why? UVB rays produce solar heat and visible light that can break down the chemical bonds of many materials, including couches, carpets, rugs, paintings, etc. While some fabrics may be UV resistant, standard fabrics and paints aren't and will be bleached by the sun. Darker colors and watercolors will fade faster than others.
Unfortunately, most color fading is silent, meaning you don't know it's happening until you discover the fabric seems lighter and discolored after a while. It happens slowly, and each time the material or color is exposed to sunlight, the chemical bonds in the coloring will break down. Luckily, you can prevent silent fading!
How Can I Prevent Silent Fading?
You don't want your new dark grey couch to lighten up, right? What about that gorgeous watercolor painting you won in the silent auction you paid a pretty penny for? Protecting your home's interior from harmful UV rays is paramount for keeping it vibrant and full of color, not faded from the sun. So, how can you prevent silent fading?
For starters, you can hang your vibrant, one-of-a-kind pictures and paintings in rooms that don't receive much indirect sunlight or in an area of a bright room where the sun doesn't touch. Doing so will keep your artwork bright and colorful and never dull from UV exposure. For rugs and couches, you could always position them in a room where the sunlight doesn't touch most of the day. Opt for placing your couch, area rugs, or artwork in an area of the room where the sun will shine on it after 4 p.m. when UV rays aren't as strong.
Of course, you can't guarantee that your couch, carpet, or artwork won't have UVB exposure. You don't want to hang your favorite paintings or place your vibrant area rug in rooms around the home that aren't high-traffic. A solution? Install UV-protected windows!
What are UV-protected Windows?
UV-protected windows filter out UV rays, protecting your skin and preventing the silent fading of fabrics and paintings. Most standard windows filter UVB rays, but not all filter UVA rays. UV-protected windows, or Low-E, have a coating that blocks almost all UV rays, keeping your home cooler or warmer and protecting your couch, area rugs, carpet, and artwork. Double-pane windows have the Low-E coating installed between both panes, while single-pane windows have the Low-E coating in the interior.
At One Stop Home Improvement Shop, we're proud to offer MountainView Windows with Low-E options. Our replacement windows offer many benefits for homeowners regardless of budget. Their durability is like no other, with premium vinyl frames that require zero maintenance. They're also energy efficient, exceeding all ENERGY STAR® standards and offering exceptional performance with air-tight interlocking seals to prevent drafts. 
Our installation process for installing MountainView Windows is easy! It starts with our free consultation where we'll come to your home and examine your current windows. We'll provide an honest assessment of your windows and the cost of installing replacement windows. Here's a glance at our installation process:
Remove your current windows (we clean it all up and discard every piece)

Measure & custom-fit our

MountainView Windows

to be a perfect fit for your home

Install your replacement windows
Our window installers are expertly trained, avoiding common pitfalls in window installation and ensuring a perfect fit for your home.
One Stop Home Improvement Shop can help with all your home improvement needs, whether you need help with an insurance claim or a quote for installing a new roof or gutter system. We're here to help every step of the way throughout the entire process. Contact us today for a free consultation!