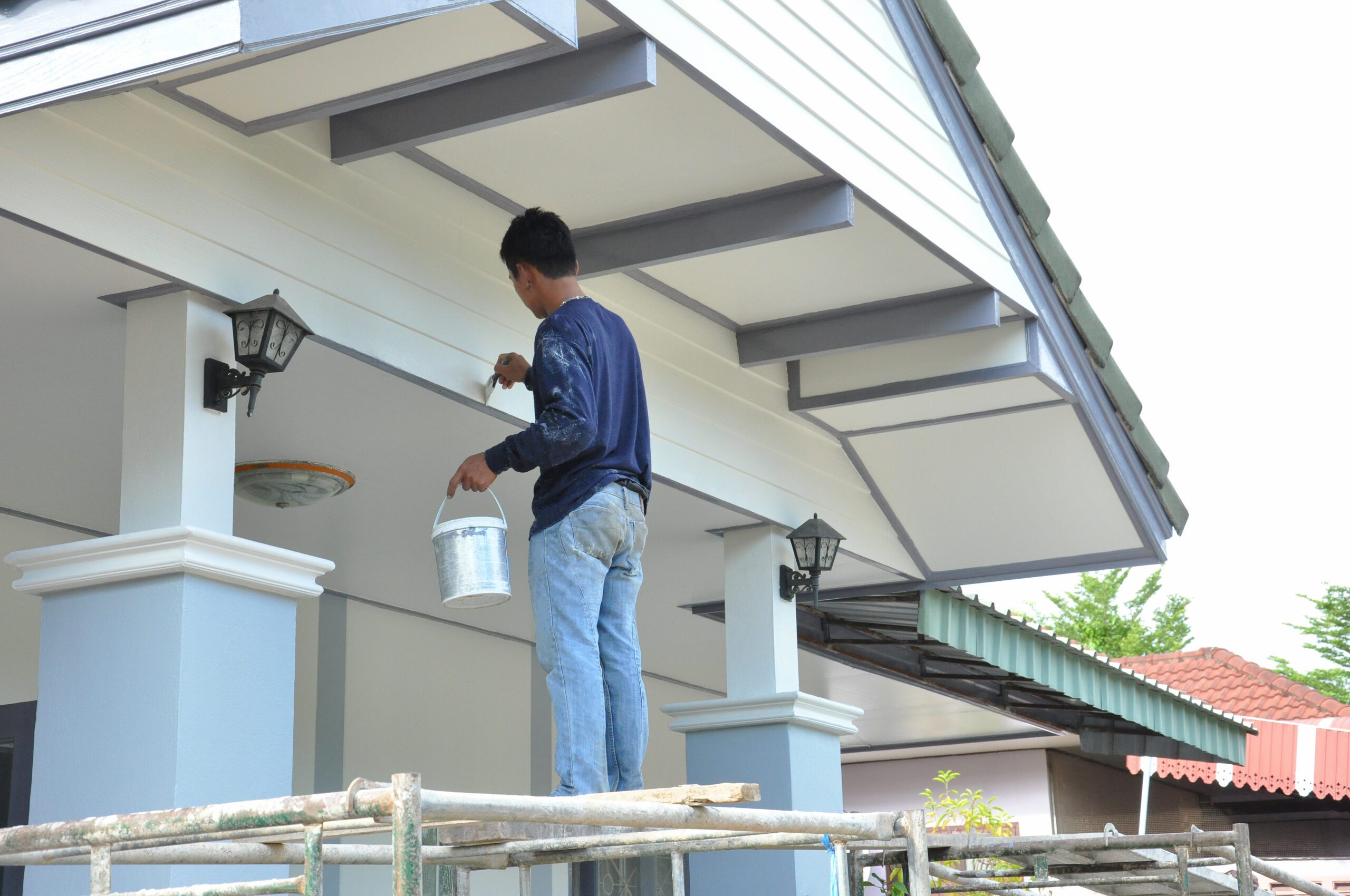 Do you ever get the sudden itch to refresh your home? Like rearranging the furniture, repainting the walls with a brighter or bolder shade, or replacing all the kitchen appliances? While indoor home refreshes are great, the exterior of your home could also use a refresh.
There are so many outdoor projects you can tackle to give your home's exterior a refresh. From the patio to the landscaping, there are many possibilities! Keep reading to learn 5 ideas for refreshing your home this spring to get it ready for the warmer weather. 
1. Revamp Your Backyard Patio
Patios and outdoor spaces are places we often frequent during the warmer months. From hosting a graduation party, and summer barbecues, to the perfect place to escape and relax, backyard patios get a lot of foot traffic. The days and evenings are slowly getting warmer, and before you know it, we'll be well into scorching summer weather. Now is the perfect time to revamp your backyard patio before the weather gets hotter.
Revamping your backyard patio doesn't need to break the bank; even a few adjustments or changes can give your outdoor space an entirely different feel. You can revamp your patio by trying any of the following:
Upgrade patio furniture

Invest in a new grill

Swap out patio furniture cushions and pillows for a fresh vibe

Add decor

Repaint or stain the deck

Add some potted plants or trees
Though some of these changes are minor, they can make a significant impact and make your cozy oasis even more inviting.
2. Redo the Landscaping
Another great way to refresh your home's exterior is to redo the landscaping. This doesn't need to be a massive project where you hire professional landscapers and spend thousands of dollars. Instead, you can make some minor changes yourself or enlist the help of some friends to redo the landscaping with you.
Redoing the landscaping can mean many things, from planting new bushes and trees to swapping out mulch or adding a fountain or little pond to your yard. Before you begin, make sure you have a plan in place so you know the design you want and the supplies you need before starting the project. Home improvement stores can help you gather everything you need to make your landscaping project come to life. You can also hire professional landscaping companies to help if your project is complicated.
3. Refresh the Front Porch
Think of all the foot traffic our front porches see on a given day: mailpersons, delivery truck drivers, family members or friends entering and exiting the home, neighbors visiting, etc. Front porches are also one of the first things potential homebuyers notice about the home's exterior. Giving it a refresh this spring can give your home an entirely different vibe.
Refreshing the front porch can include a simple task like repainting the front door, restaining the wooden deck, laying fresh cement over the patio, or adding potted plants and rocking chairs to the porch. Whatever you choose to do, refreshing the front porch can make a huge impact on your home's exterior.
4. Update Outdoor Lighting Fixtures
Do you know how old the lighting fixtures on your home's exterior are? Whether you have simple front porch lights or more intricate fixtures, your home's exterior could benefit from new outdoor lighting fixtures if your current ones are older or in rough shape. 
There are plenty of outdoor lighting fixtures that complement any style, from industrial to farmhouse. Hiring an electrician is a great idea when dealing with outdoor lighting, as the wiring might need some revamping depending on how old the home is. They can also help determine which lighting fixtures would be best in certain areas.
5. Replace the Gutters
Gutters are also one of the first things potential homebuyers or passersby notice about your home's exterior. If the gutter system is in rough shape, it can deter homebuyers and be unpleasing to neighbors or homeowner associations. If your gutters are looking drab and you're tired of constantly cleaning them, it's time to replace them.
One Stop Home Improvement Shop has plenty of gutter systems that will give your home the refresh you've been dreaming of. From gutters and gutter guards to the K-Guard Leaf Free Gutter System, our gutter systems are top of the line. Homeowners all over Lynchburg, Charlottesville, Danville, and surrounding cities have chosen One Stop Home Improvement Shop for their home improvement needs for over two decades.
Our high-performance seamless gutters and gutter guards are made from incredibly durable materials that will never corrode or warp, which is important in a humid climate like Central Virginia. In addition, our K-Guard System offers a maintenance-free solution for homeowners that never want to perform the daunting task of cleaning their gutters again. If you opt for installing half-round gutters, we offer a gutter cleaning and repair service!
Replacing your gutters protects your home from drainage issues and gives your home a beautiful refresh, attracting potential homebuyers and appeasing neighbors. Plus, when your gutters are in tip-top shape, as a result, there are no clogged gutters and your landscaping near your gutters will be protected from drainage issues as well. Our gutters won't overflow, keeping your landscaping drier and preventing basement leaks, foundation damage, roof damage, and so on.
Our gutter solutions are top-of-the-line and will complement the unique beauty of your home. We'll never void your roof's warranty, and your gutter system will look new for decades. Book your free estimate today!