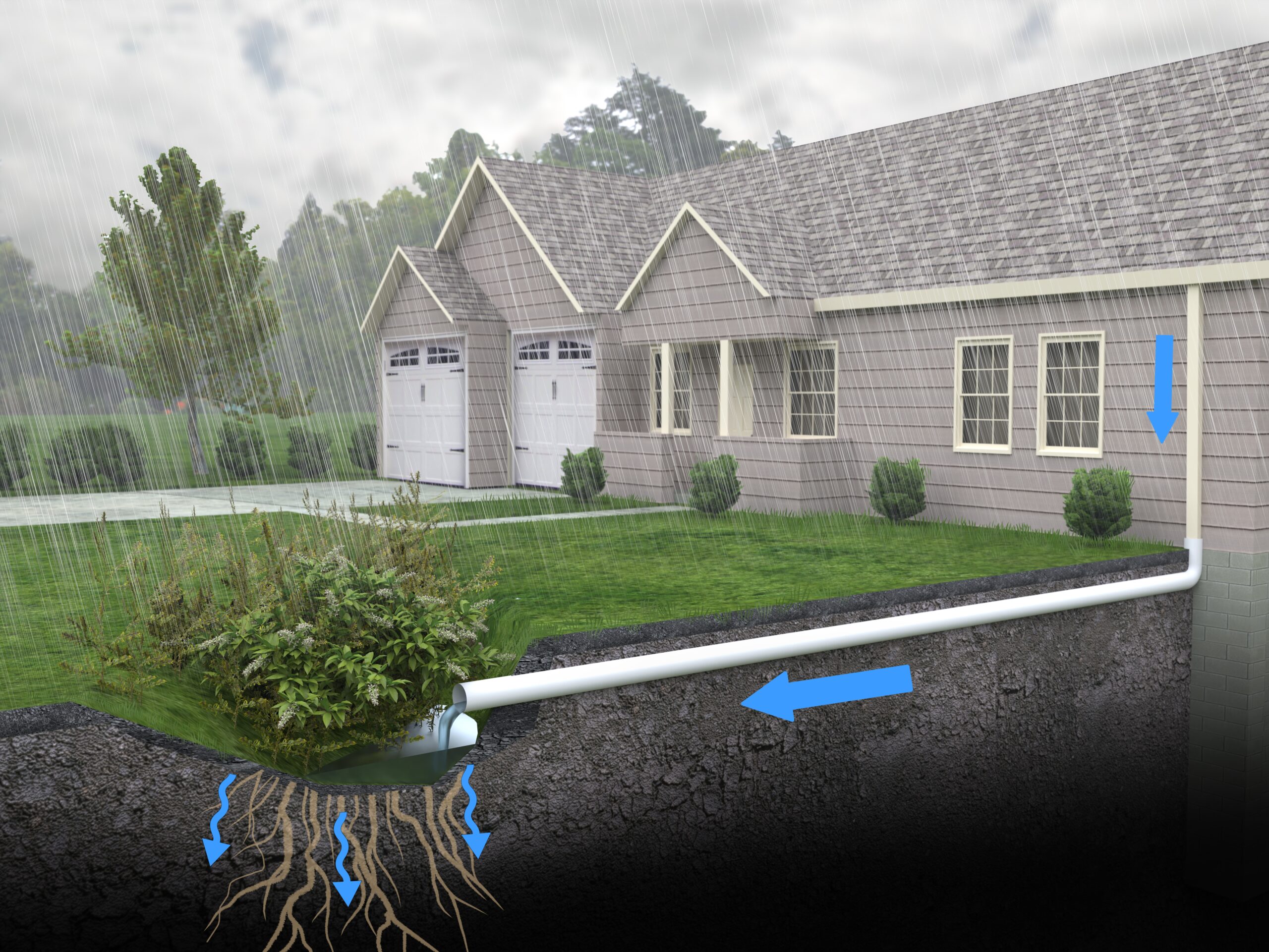 We get plenty of rain here in Lynchburg and its surrounding cities. While we don't have the wettest climate in the United States, Virginia averages a little over 44 inches of rain per year, ranking as the 19th rainiest state. We get various forms of precipitation year-round, including rain, snow, sleet, and even ice storms. 
All of this precipitation makes our gutter systems work in overdrive to flush meltwater and stormwater through the gutters and downspouts to protect against drainage issues. Depending on the type of gutter system you have, you may or may not have adequate protection from heavy rainfall. 
Many homeowners consider adding underground gutter drains to help with removing excess rain and water from the ground. Continue reading as we explain what underground gutter drains are and whether or not you should install some on your property.
What are Underground Gutter Drains?
Underground gutter drains connect to the gutter system at the base of the downspouts. Meltwater and stormwater flow directly from the gutters, into the downspouts, and into the underground drains. Water flows away from the house through underground drains, which could lead to the street, a sewer, or a lawn farther from the house's foundation. 
They work to collect the water that flows from the downspouts and drain it further away from the home. The idea is that the ground near the downspouts will never be saturated due to water flowing from the downspout that's left to spill near the home's foundation. Underground gutter drains collect this water from the downspouts and deposit it away from the home, further on the property.
What are Some Pros & Cons of Underground Gutter Drains?
Pros of Underground Gutter Drains
One advantage of underground gutter drains is that if they are installed properly and maintained, they can drain excess water away from the home. This is especially helpful if the house has a yard that is prone to flooding.
Another advantage of installing underground gutter drains is that they add another element of protection when it comes to drainage issues. They'll work simultaneously with your gutter system to collect and drain meltwater and stormwater.
Cons of Underground Gutter Drains
Underground gutter drains sound great in theory, but they do have some disadvantages. For one, because they are installed underground, discovering a clog is much more difficult compared to easily spotting a clog in your gutters or downspout. Being underground means it's out of sight, so the only way to know if there's a clog inside the drain is to have a professional dig up the drain and inspect it. Oftentimes, a clog is left unnoticed until it causes issues like flooding and overflowing underground gutter drains before it's detected.
Next, because they're underground, a professional underground gutter drain installation company will need to dig up your lawn. This means ripping apart your grass and landscaping and leaving behind mounds of dirt to cover the underground drains. It can be an unsightly and noisy installation process.
Do I Need Underground Gutter Drains?
So, are underground gutter drains necessary? Should you install them? If your home is prone to flooding and water often collects around your home's foundation, then you may want to consider installing them.
On the other hand, the best solution for protecting your home against drainage issues is to install seamless gutters or gutter guards from One Stop Home Improvement Shop. Our gutter solutions are the best for homeowners in and around Lynchburg, Charlottesville, and Danville. Below are some of the gutter solutions we offer:

Seamless gutters that don't leak and allow water to flow freely throughout the gutter system

Gutter guards that block debris

Xtreme mesh gutter guard system that's made from surgical-grade stainless steel that blocks debris from entering the gutter system

K-Guard Leaf Free Gutter System

– a complete system that has a curved hood that blocks ALL debris from entering the gutters so they NEVER clog
Our gutter solutions are top-of-the-line and will complement the unique beauty of your home. We'll never void your roof's warranty, and your gutter system will look new for decades to come. No matter your home's design, we have the perfect gutter solution here at One Stop Home Improvement Shop! We deliver a 5-star experience and have decades of experience and many happy, lifelong customers. We're located in Lynchburg, Virginia, and we cover the surrounding areas.