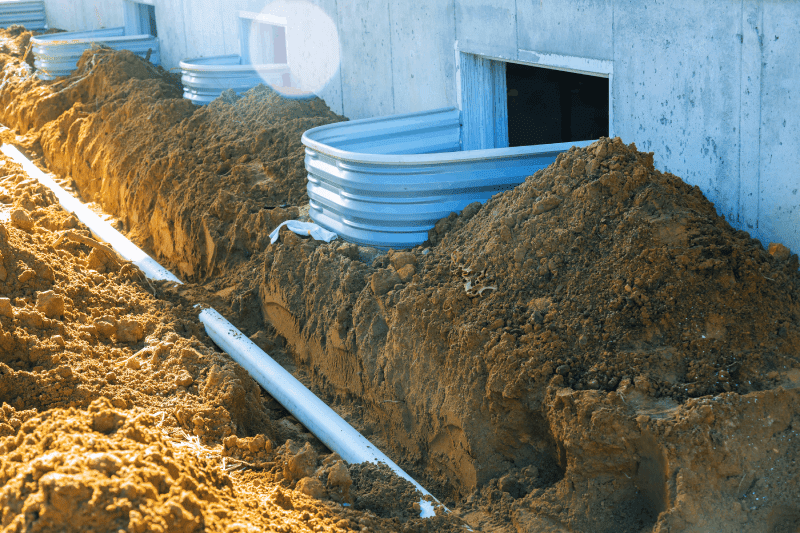 At K Guard / One Stop Home Improvement Shop, our top priority is moving water where it's supposed to go: away from your home. With our leaf-free gutter system, we've been meeting the needs of our customers in Lynchburg and surrounding Virginia areas for over 20 years.
While the traditional above-ground gutter drain is a common option, underground gutter drains are another alternative to consider with some key advantages. Let's dive into underground gutter drains and all they entail. 
What are underground gutter drains? 
Connecting directly to your gutter system, underground drains allow rainwater (as well as melting snow or melting ice) to flow from your gutters through the downspout into the underground drain and away from your home. Based on the length of underground drain you choose to install, one advantage of underground drains is that they can extend far enough to the street, directing your water toward a street drain. A key aspect of effective underground gutter drains is ensuring they are installed at the proper angle to prevent water from returning to your home. 
How do you install underground gutter drains?
There are five basic steps to the installation of an underground gutter drain system. While the steps may be basic, they are not easy! Be sure you're fully trained and equipped to install the system (or you've hired a top-notch team), as improper installation could result in major and costly issues. The main steps include:
Mark the line:

You must determine where your trench line will go in your yard. 

Dig the trench:

Once you've determined where you want your trench to be, you can dig the trench. Make sure you take good measurements and only dig as wide as you need – you don't want to tear up your yard too much! Be careful to note any gas lines (

call 811

!) before you dig. 

Install pipe and elbows:

There are two main components of underground gutter drain systems: the waterproof drain pipe (most common types include PVC and polyethylene), and the elbow connecting the pipe to your downspout. You can use different lengths of pipe depending on your needs.

Connect your downspouts:

It's important to ensure that your downspouts are well-connected to your underground gutter drain. Improper installation of this step could lead to leaks, water buildup, and foundation issues that could be costly to repair in the future. 

Fill the trench:

You can use the same dirt or new dirt to refill your trenches and re-landscape your yard. Be sure that your pipes are no longer visible and use enough dirt to prevent any spotty areas in your yard. 
What are the advantages of underground gutter drains?
Underground gutter drains, when properly installed, can have many advantages over traditional gutter drains, primarily in the curb appeal and lawn maintenance aspects. With an underground gutter drain, gone are the days where you have to worry about hitting your drain with your lawnmower or accidentally disconnecting it when you move it out of the way to mow. With underground gutter drains, your lawnmower can mow as normal without interfering with the system. An added benefit? You don't have to worry about tripping over those above-ground downspouts anymore! 
Another advantage is enhanced curb appeal. If you spend significant time and money making sure your yard looks stunning, then a large gutter drain on top of your yard could be an eyesore that you don't want. Using the underground system can provide an ideal aesthetic to your yard and increase your curb appeal and resale value when it comes time to consider selling your home. 
How does our full gutter system work with an underground gutter drain system?
One major disadvantage of an underground gutter drain is that without proper installation, your underground system could be easily clogged. Like an above-ground system, you want to avoid leaves, gravel, and other debris clogging up your drains. But unlike an above-ground system, noticing a clog — and cleaning it out! — could be more difficult. That's where K Guard / One Stop Home Improvement Shop can help with our one-time gutter solutions system. 
What Sets Our System Apart 
We don't interfere with your roof:

Our system uses high-strength hangers, hung at intervals along the gutter line. Since these hangers attach to the fascia and not the roof, your roof warranty won't be impacted. Additionally, you won't have to worry about your roof being affected by the additional weight of the gutters.
The K Guard / One Stop Home Improvement Shop system includes the gutters AND covers:

Other systems often just provide covers to put over your existing gutters, but our system includes both. This is the best for your investment but also ensures that your gutters and covers work seamlessly together. 

No clogs, guaranteed:

We promise that our system will not clog, allowing only water into your gutters – the way that it should be. No clogs in your gutters mean no clogs in your underground gutter drain. It's a win-win for your home and your pocketbook.

Our gutters hold more water:

Because our gutters are bigger than traditional systems, they can hold more water, up to a

minimum

of 22" per hour! And that's especially helpful to withstand those heavy Virginia rains. 
K Guard / One Stop Home Improvement Shop cares about providing the best solutions to your family because of how we run our business. We provide our clog-proof system and unparalleled service to Lynchburg and surrounding areas. Learn more and connect with us for a quote at 434-525-0403.