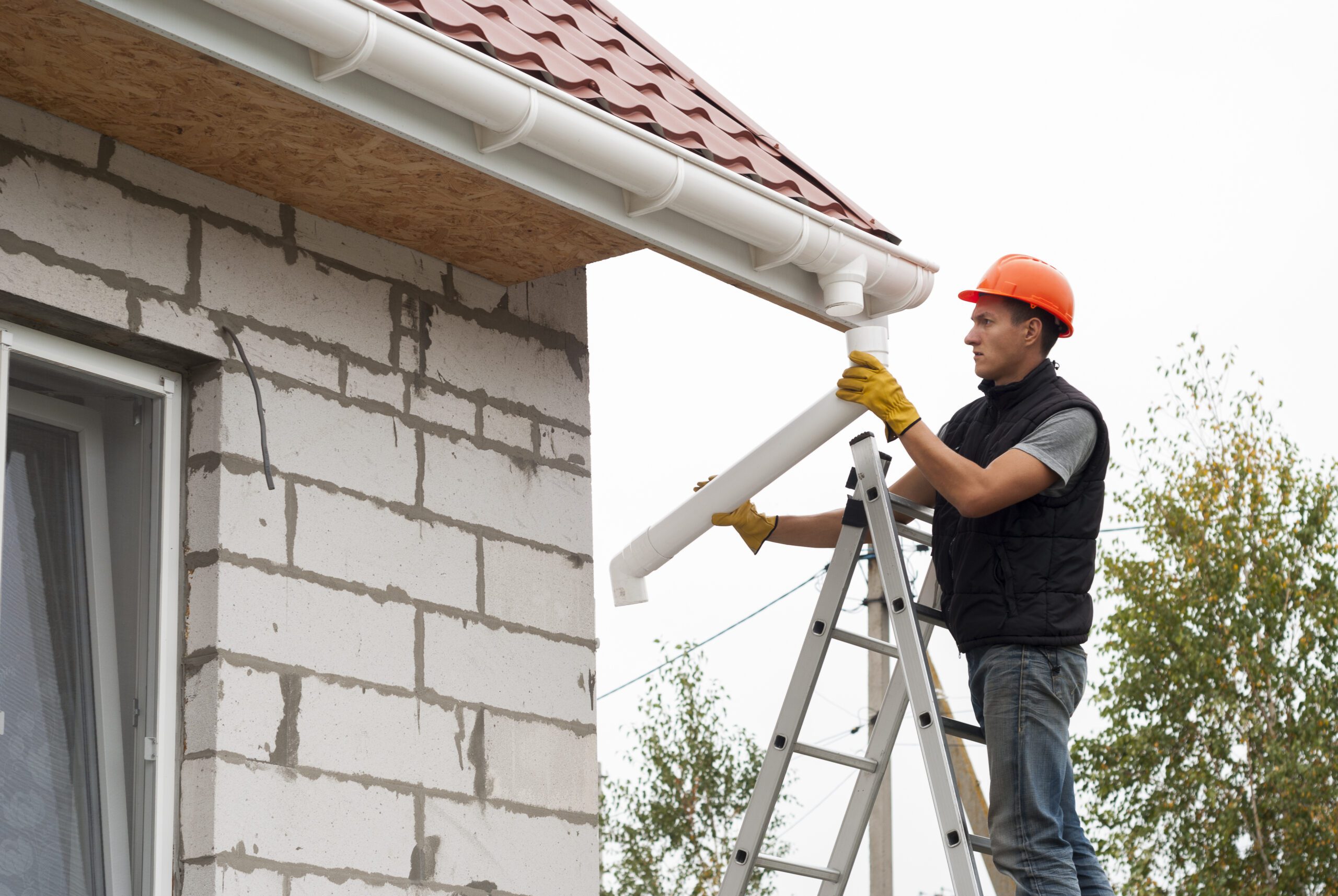 There are many things that homeowners attempt to DIY. Installing new flooring, painting the home's interior, replacing kitchen appliances, and many more projects that, with some research, can save money versus hiring a professional. However, some home projects should never be attempted by a homeowner, like installing a new gutter system.
It might seem like a good idea to dismantle your current system and install new gutters and downspouts – how hard can it be, right? The truth is that there is a lot that goes into a gutter installation, and DIYing the project could result in costly damage that requires the help of a professional to repair damage and install a new gutter system, costing you way more down the road.
Continue reading to learn about DIY vs. professional gutter installation so you can make the best decision when it comes to protecting your home from water damage.
DIY Gutter Installation Disadvantages:
1.  DIY Gutter Installation Ends Up Costing More
Those who consider installing a gutter system are most often trying to save money, looking to save on hiring professional installers, using their materials, and being charged for their labor. Though it may seem cheaper to install gutters yourself, it will likely cost more money.
Anytime you DIY a project, especially a major one like a new gutter system, there are a lot of moving parts that bring the entire system together. You'll need to purchase or rent the tools required to dismantle your current gutter system (including a dumpster for discarding the old gutters and downspouts) and install your new one. Tools like cordless drills, snips, fasteners, and extension ladders add up, especially when you factor in the cost of the actual gutter materials. Professionals have these tools on hand, but the average homeowner needs to purchase or rent, which costs more.
2.  DIY Gutter Installation Doesn't Come With a Warranty
Another disadvantage to installing a gutter system without hiring a professional gutter installation company? There aren't warranties. While some retailers will offer a short-term warranty on their gutter products or parts, there is no long-term warranty on your labor and the system as a whole.
Lack of warranty can hurt when it comes to storm damage and natural wear and tear. DIY gutter materials lack enamel and high-quality materials compared to professional gutter installation companies' materials. You could find yourself spending a pretty penny on replacing materials and components that get damaged in a severe thunderstorm or from ice dams. Living in Lynchburg and surrounding cities means a potential for severe weather thanks to four seasons, so proceed with caution when thinking about a DIY gutter installation with a lack of warranties.
3.  DIY Gutter Installation is Dangerous
The average homeowner hasn't had the training required to dismantle and install a gutter system safely. There are so many tools required, and each gutter component should be installed in a certain way to properly collect and drain water away from the home. Doing a DIY installation is dangerous. Unless you've assisted with a professional gutter installation or have the proper training, don't attempt to install your gutters.
Professional Gutter Installation Advantages:
1.  Professional Gutter Installation is a Better Investment
Some professional gutter installation companies like K-Guard/One Stop Home Improvement Shop cut the gutter materials on-site to be a custom fit, using a rolling machine that slowly bends our flat coil stock to ensure your gutter system is a perfect fit and the enamel won't crack, something you can't achieve when DIYing a gutter installation. 
When you attempt to install a gutter system on your own, you'll be purchasing a bunch of materials and components that won't match the durability of a professional gutter installation company. At One Stop Home Improvement Shop, our seamless gutters and our K-Guard Gutters are made of heavy-duty aluminum that will never corrode or sag. 
2.  Professional Gutter Installation Comes With Warranties
Unlike a DIY gutter installation, professional gutter installation companies offer warranties. Depending on the company you hire to install your gutters, the warranty could vary from the materials, labor, or both. 
One Stop Home Improvement Shop offers a warranty on our seamless gutters and guards and a lifetime warranty on our K-Guard Gutters to protect against the base material corroding, paint chipping, clogs, and the risk of the gutters pulling away. Our lifetime warranty covers the gutter system for the life of the home, something most other gutter installation companies can't offer.
3.  Professional Gutter Installation is Safer
As previously mentioned, the average homeowner doesn't have the proper training to scale a roof, dismantle an old gutter system, and install a new one. Professional gutter installers have safety training and training on how to correctly install a gutter system, understanding how all the components go together for a seamless installation. 
Also, professional gutter installation companies in Central Virginia possess insurance to protect their workers in the event of an accident on the job. When you attempt to DIY a gutter installation, you don't have the proper training to safely complete the installation or possess the insurance they do to protect their team.
Still thinking about attempting a DIY gutter installation? We advise you to leave it up to the professionals for your safety. One Stop Home Improvement Shop has been installing gutters around Lynchburg, Charlottesville, Danville, and surrounding cities for decades. We're a locally owned and operated company that uses the highest quality materials with tens of thousands of satisfied customers. We also possess all required insurance and licenses to safely complete a gutter installation job.
One Stop Home Improvement Shop can help with all your home improvement needs, from help with an insurance claim to a quote for installing a new roof or gutter system. We're here to help every step of the way throughout the entire process. Contact us today for a free consultation!